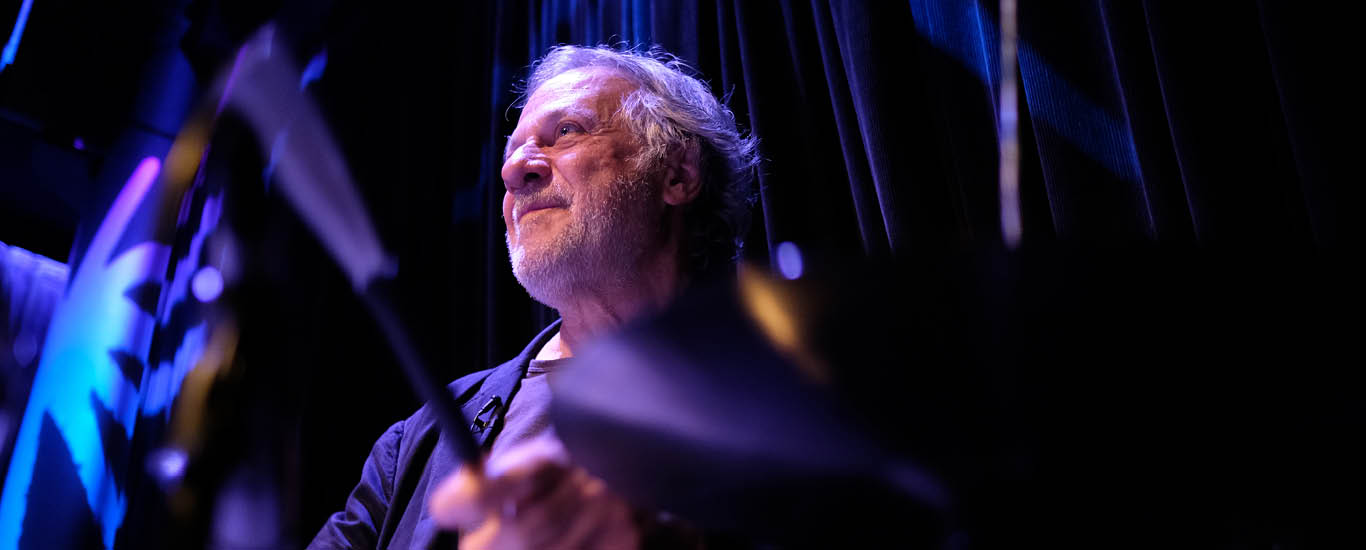 Photo: Berk Özler
Can Kozlu, one of the masters of jazz drumming in Turkey, was born into a household that lived with music. His mother, an amateur pianist, taught him the works of composers such as Bach, Beethoven and Brahms at an early age, which formed the musical foundation of the legendary drummer. Having started classical piano training at the age of six, Kozlu discovered improvisation, becoming interested in progressive rock and then jazz drumming, influenced by names such as Jimi Hendrix and The Beatles. 
Can Kozlu gave concerts with the band he formed with Setrak Bakırel and Röne Macaroğlu at Saint Joseph High School and participated in the Golden Microphone competition after starting to work with Erkan Oğur. Kozlu said that his world changed after he saw the flute legend Herbie Mann at the Emek Cinema in 1971, and when flutist Eril Tekeli joined their band, they participated in the Milliyet High School Music Competition and won first place among 190 groups in both performance and composition. 
After continuing to play music in various bands with Nükhet Ruacan, Neşet Ruacan, Arto Tunçboyacıyan, Onno Tunç and Emin Fındıkoğlu, he studied in Grenoble, France. He then continued his education at the Centre d'Information Musicales in Paris. Kozlu, who continued to play with the Asia Minor band while studying with a scholarship, started to perform with Ali Perret while continuing his education at Berklee College of Music with a scholarship from the USA. After returning to Turkey, Kozlu continued to perform and do arrangements in bands he formed with renowned figures such as Emin Fındıkoğlu, Onno Tunç, Tuna Ötenel, Şenova Ülker, Nükhet and Neşet Ruacan. In addition to recording with pop stars such as Sezen Aksu and Nilüfer, he also worked with Aydın Esen for a long time. He worked with important jazz ensembles such as Maffy Falay Quintet and Oğuz Büyükberber Quartet. Can Kozlu, who founded the Bilgi University Jazz Performance Department with Ali Perret in 1996 and trained students with high educational standards, has inspired many important drummers from Turkey.