DATE AND VENUE
{{item.tarih}}, {{item.mekan}}
JAZZ BOAT
Brassist


Volkan Coşar trumpet
Seçkin Özmutlu trombone
Deniz Felder saxophone
Ertan Şahin sousaphone
Burak Cihangirli drums
Talking Horns


Achim Finch sousaphone
Andreas Gilgenberg saxophone
Bernd Winterschladen saxophone
Stephan Jochen Schulze trombone
The Busquitos


Thomas Streutgers saxophone
Jelle Van Tongeren violin
Ronald De Jong bass, vocals
Michael Seraus guitar

Unquestionably one of Istanbul Jazz Festival's most beloved events ever, the Jazz Boat is returning after nine years upon fan demand. Add the ferry tour to your schedule for this highly anticipated seafaring concert where a tour of the Bosphorus meets with music, and the city's impressive atmosphere mixes with melodies. The Jazz Boat will depart from Kabataş Pier, have a stopover at Anadolu Kavağı and return to Kabataş.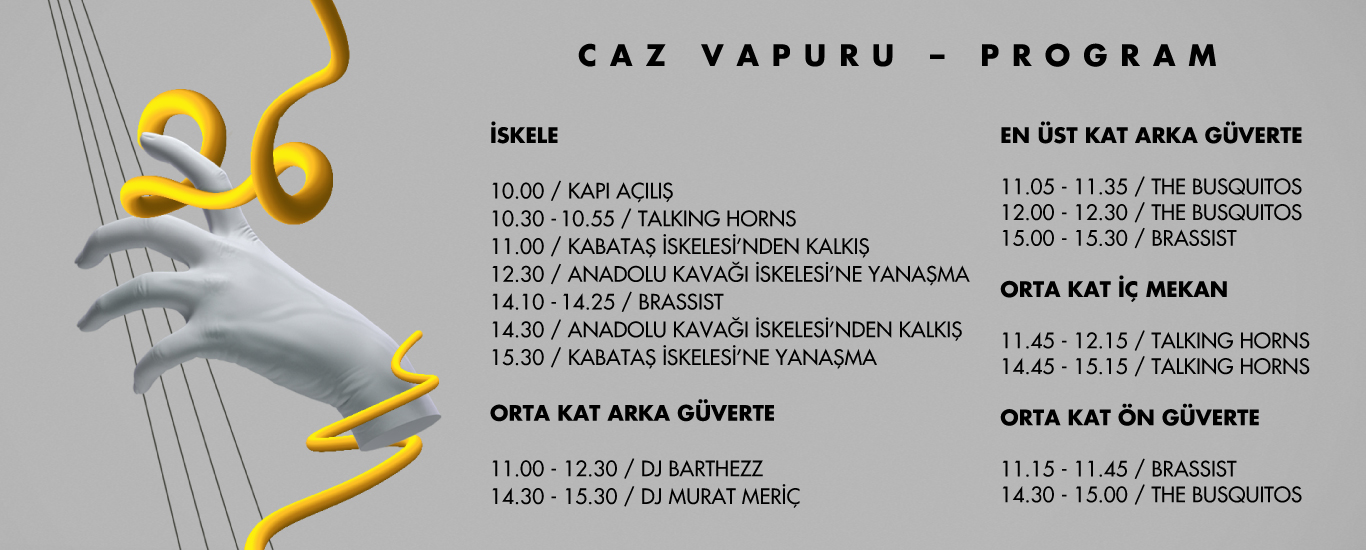 Kabataş – Anadolu Kavağı – Kabataş
Departure Point: Kabataş Pier
Door Open: 10.00
Departure from Kabataş: 11.00
Arrival at Anadolu Kavağı: 12.30
Departure from Anadolu Kavağı: 14.30
Arrival at Kabataş: 15.30
Suitable for all ages. Please arrive early to avoid queues. Ticket holders will be allowed on board as of 10 a.m. You will see staff members who will show you the Jazz Boat at Kabataş Pier. The kiosk at the boat will be selling food and drinks. During lunchtime, the boat will arrive at Anadolu Kavağı at 12.30 and will leave for Kabataş at 14.30. There are restaurants at Anadolu Kavağı for our audiences to have lunch. Meals and beverages at the boat, or the lunch at Anadolu Kavağı are not included in the ticket price. Alcoholic beverages and smoking are not allowed in the inside or outside areas of the boat.